What Features Come with Gazoop Cloud Dispatch?
With Gazoop's Cloud dispatch system, not only will you be able to dispatch rides more efficiently than ever before, but you'll also be able to completely control all aspects of your business from almost any tablet, mobile, laptop, Mac computer, or PC.

Gazoop's ingenious Cloud dispatch system can be divided into 6 main sections, each designed to maximize a different area of your company's success: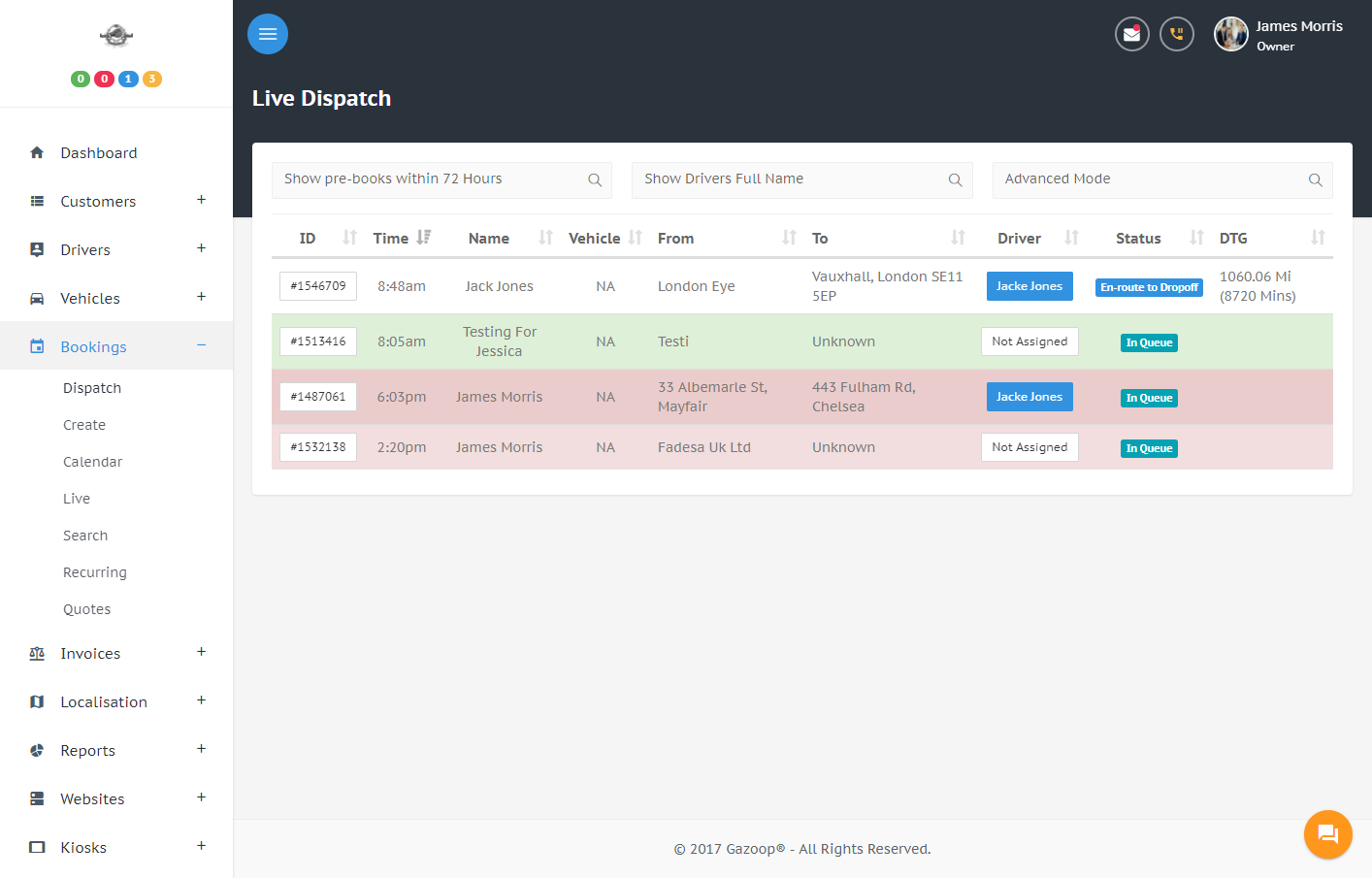 World Renowned
Providing fleets all over the World Ultimate Quality Cloud Dispatch Solutions
Millions of Bookings
Helping your Customers go from A to B since 2013.
Thousands of Clients
We have individual drivers though to huge ride share operations.
24/7 Support
We provide telephone, email, and live chat contact options 24 hours a day.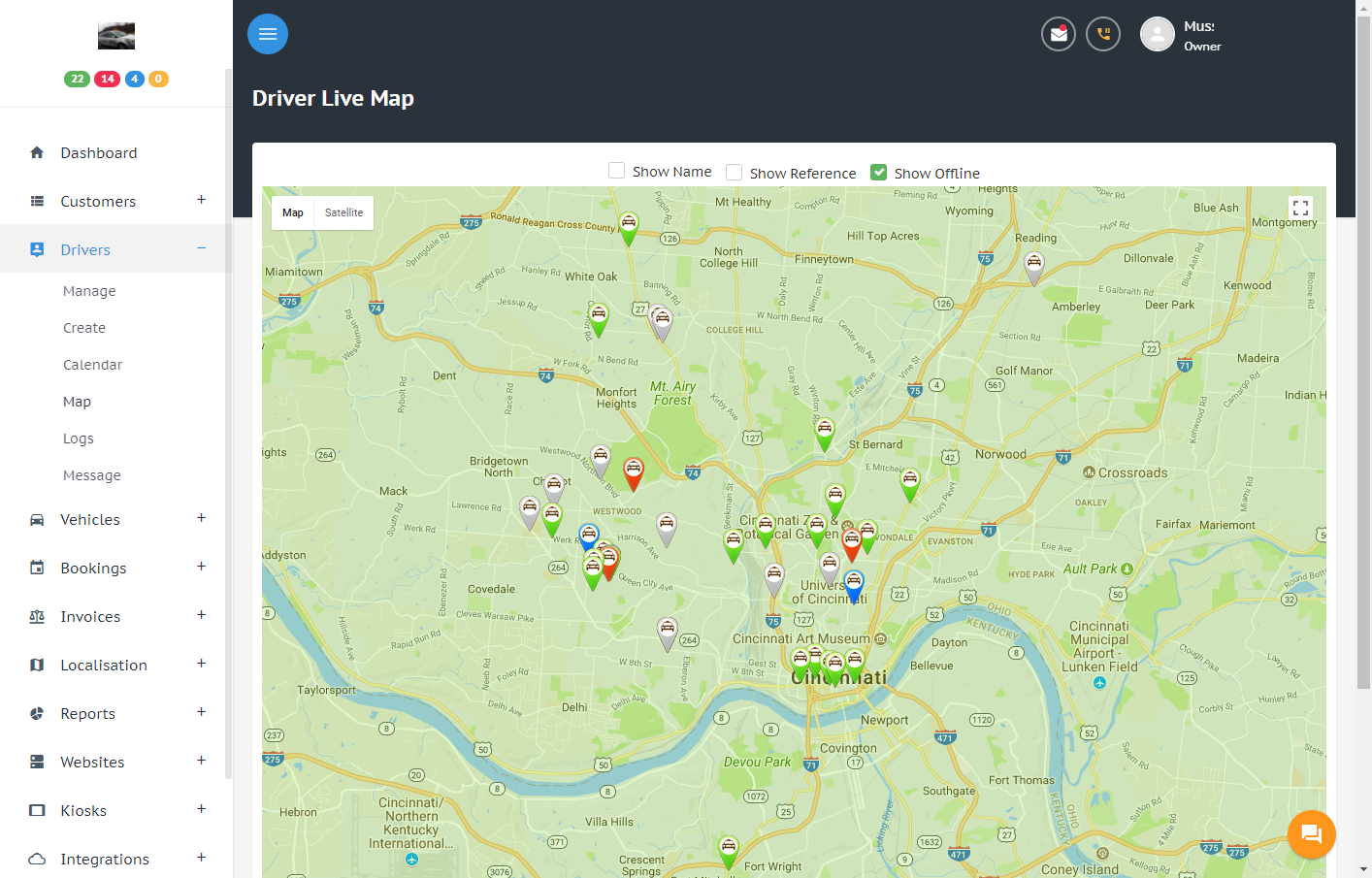 Driver Controls
Driver Status: Managing your drivers is easier than ever with our Cloud dispatch system. You can add, delete, suspend, or reinstate drivers and their privileges as needed. Best of all, these changes are saved across every computer and mobile device at once.
Advanced Settings: Each driver's commission rate, assigned vehicle, daily schedule, and radius of operations can all be adjusted with a single tap of the screen or click of the mouse.
Accounting: Advanced financial software takes care of behind-the-scenes paperwork such as driver payment methods (either weekly fees or fixed rates per ride), and automatically generates invoices for your tax records as well.
Bookings Module
Instant, Scheduled, or Recurring Bookings: Customers can easily select a destination and pay without ever having to place a single phone call.
Flight Tracking: For airport jobs, your drivers will be notified as soon as a flight lands and also exactly where they need to be.
Quote Statistics: If a customer calls to book a ride and decides not to go with your company, our Cloud dispatch system keeps track of exactly why (pricing, wait times, etc.) so that you can further improve in whatever areas you deem necessary.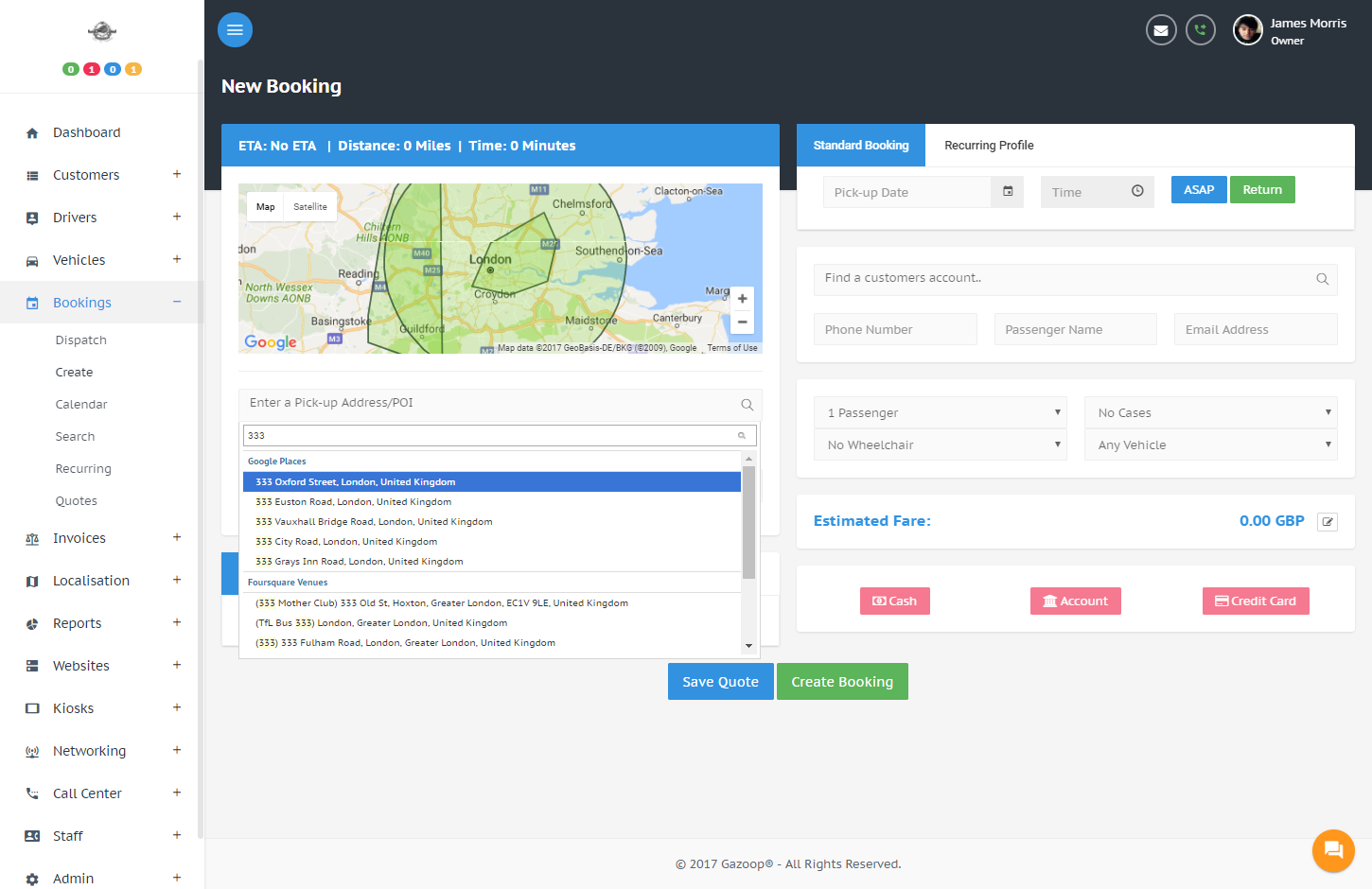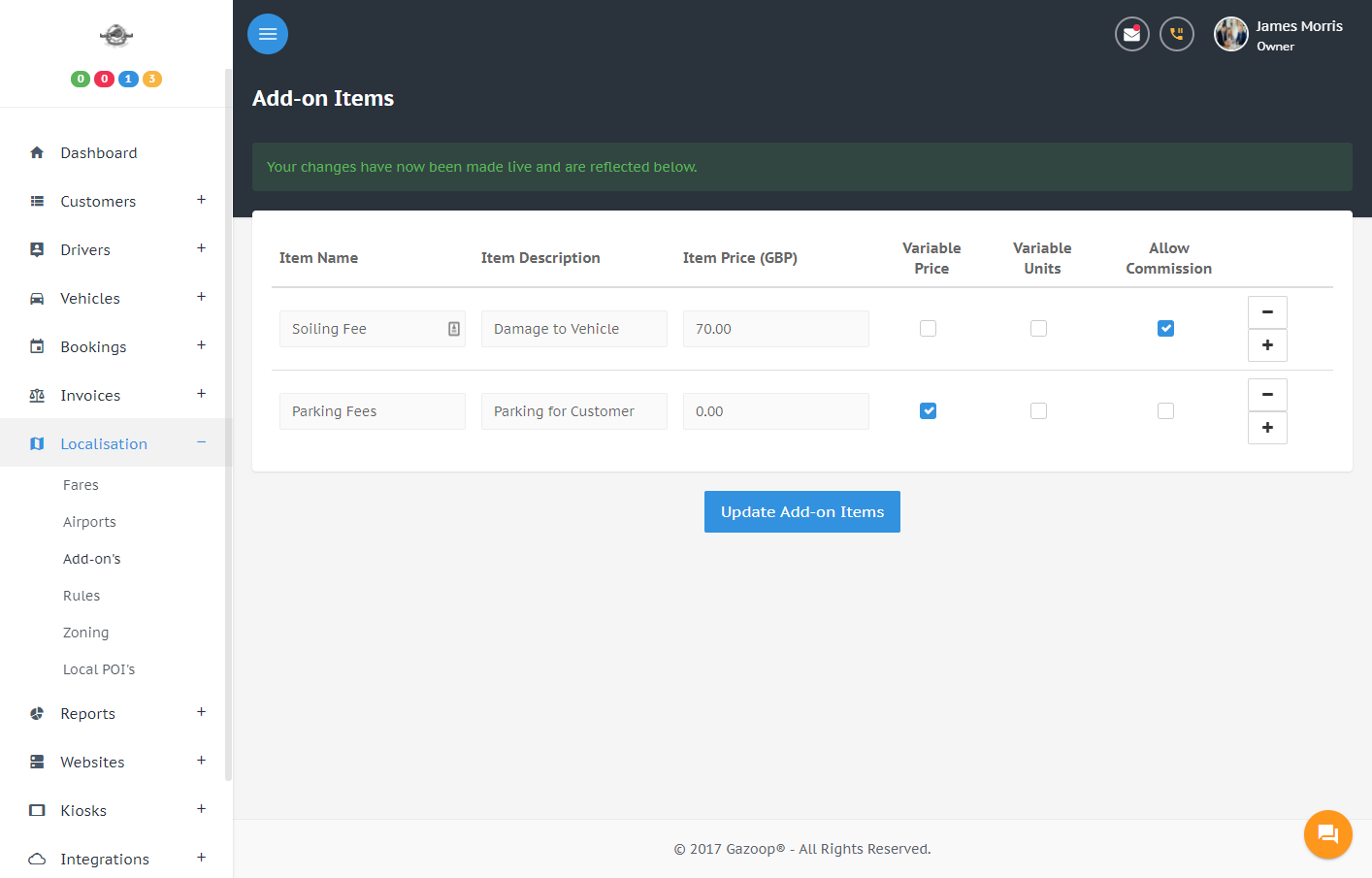 Rules System
Fee Control: Creating new conditions and circumstances on-the-fly is easier than ever before. From bad weather to after-hours calls, you can easily create additional one-time only fees that apply only to certain rides.
Zone to Zone Fares: You can create new fleet zones as needed and easily set adjustable rules for each. This is especially helpful if you want to create additional fees for high-traffic areas or long-distance rides, or even to offer discounts for the latter.
Short Messaging Service (SMS): With a Cloud dispatch system, you'll be in complete control of exactly when drivers receive automatic notifications. For example, you can program an urgent message to be sent out whenever the queue reaches a certain level, or to quickly send out new safety regulations.
Booking Conditions: If you want to prevent customers from booking rides after a certain time - or even to prevent a problem customer from booking rides at all - it's all possible with our customizable blocking features.
Virtual Call Center
Our Cloud dispatch system means your calls can be fully logged, recorded, or patched in from absolutely anywhere in the world. In fact, if you are struggling with your in-house team our professional call center can even help out by handling overflow calls during peak hours, holidays, or any other times of extreme stress. For an extensive overview of our full call services, please visit our Call Answering page.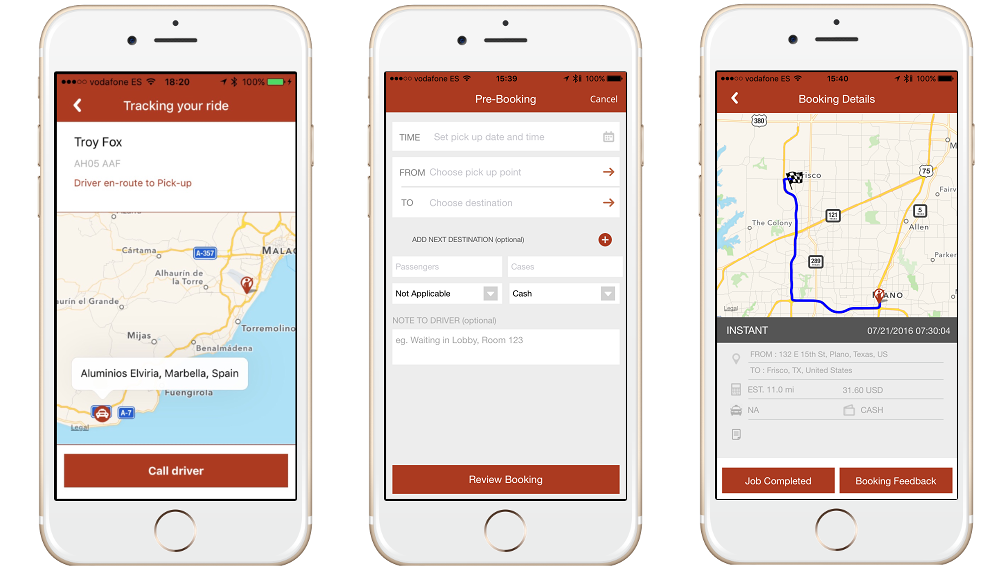 Mobile Application
Your Own Branded Professional Customer Application
Professional Layout: Customers will be encouraged to download an app which utilizes your own logo, loading screen, and color scheme for a sleek presentation that generates leads.
Unique Account: Your apps will always be released under your own personalized account and under your own branding and developer account giving you full control.
Instant Booking: Customers will be able to easily schedule a pickup, either immediately or at a later date, without speaking to a live operator. These bookings can be paid through the app with Paypal or a credit card. There is even a one-click "Take Me Home" feature that uses a customer's on-file address to foster repeat business.
Feedback System: Customers are encouraged to rate their driver using a 5-star system so that you can learn from their feedback. Best of all, Gazoop's own in-house administration team personally monitors the reviews and will automatically bring problem employees to your attention.
Website Manager
Gazoop provides your taxi cab fleet your very own sleak up to date website with a complete bookings module. No other Cloud Dispatch System offers you a free website and online booking module with an easy to use management panel.
Free Domains & Hosting
Gazoop offers free Cloud-based storage for your very own professional website. You will be given a free gazoop.cloud domain to customize the website's presentation to your own liking before upgrading to a premium website.
Premium Plan
If you would like to use your own .com/.net/.org or any other domain for your web address, or upload your own custom images, our Premium plan gives you all of the same great features along with your own unique domain name.
Online Booking Module
Aside from having your own app, your website will feature a secure booking section with customer login.
Gazoop is the Cloud Dispatch System You Need
A Cloud dispatch system means your valuable company information will be securely backed up on reliable servers across the world. You will also have a mobile app, company website, and backup phone support whenever you need. When you are ready to take advantage of all that a Cloud dispatch system has to offer, Gazoop is ready to help!